by Philip Willan
Licio Gelli lives in an elegant villa on a Tuscan hill outside Arezzo. It's an idyllic setting, his large house and garden surrounded by vineyards and cypress trees. The address is Via Santa Maria delle Grazie, reassuringly evocative of sanctity and beauty, and the house, Villa Wanda, is named after his late wife, to whom he appears to have been devoted. Inside, the sitting room speaks of his professional success: the miller's son from Pistoia who brokered million-dollar deals, acted as a roving international diplomat and controlled a secret state within the state. In its way, it's an advertisement for Italian meritocracy.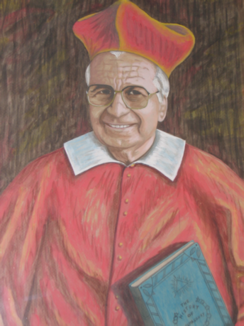 At one end of the room are two semi-circular blue sofas, which Gelli seems to favour for interviews, at the other pink armchairs. The long rectangular room could almost be mistaken for an annex of the Uffizi Art Gallery. There are ancient statues in marble and wood, old master paintings illuminated on the walls, and on the end wall a ceramic bas-relief representing 'Christ on the Mount of Olives'. Beneath it is a collection of knights in silver and ivory, the miniatures accompanied by cannons, catapults and other engines of war. It seems an appropriate choice for a man who devoted his life to ideological conflict, and did much of his scheming in the shadow of the Vatican.         
The first time I visited Villa Wanda, in June 1989, there were carabinieri on guard outside the gate. They would be a fixture there for several years: testimony to the controversial nature of the villa's owner, partly present for his protection and partly to ensure the terms of his house arrest were respected. A judge involved in the Banco Ambrosiano bankruptcy trial, in which Gelli was a defendant, found it unsettling that carabiniere commanders chose to use the same officers for protecting him, the judge, as for watching over Gelli, the defendant, rotating the bodyguards between Arezzo and Milan. He saw it as a curious kind of mind-game being played by the Milan division of the carabinieri, once notorious for its infiltration by members of Gelli's P2 Lodge.
         Despite the idyllic surroundings, one inevitably approached the house with a certain trepidation. The Venerable Master of the Propaganda Due Masonic Lodge was a living legend, and a dark one at that. Secret power, pervasive political influence and suspected involvement in a slew of crimes – from coup plots to terrorist conspiracies and not a few murders – made Gelli's reputation far from reassuring.
         On this first occasion he received me in a cramped ground-floor office, dominated by a desk and heavy wooden furniture. His appearance was anything but alarming, as I recorded in a book about his role in Italy's secret politics: 'He gave the impression of a mild-mannered provincial banker, with grey hair, a grey suit and a slightly bulbous nose in a placid-looking face.' His discourse was also surprisingly bland, as he held forth rather pompously on the responsibilities of the press in the persecution of innocent men. But he soon lived up to his reputation for Sibylline, mafia-style messages.         
The P2 Masonic Lodge, for which he had been given organisational responsibility in 1971, was a regular lodge owing obedience to the Grand Orient of Italy, he explained. It had special rules of confidentiality because it contained important personalities and others whose ideology ostensibly precluded them from becoming masons. It was therefore inappropriate to divulge their identities or for them to be expected to meet all the other members of the lodge. 'And anyway it was impossible, as there was nowhere large enough for 1,000 or 1,500 people to meet.' Here, already, was one of the cryptic messages for which Gelli was renowned. The official P2 membership list, seized in a police raid on Gelli's home and office on March 17 1981, contained 962 names: a powerful elite encompassing all walks of life, from the military to magistrates, from press to police and politicians, and including three cabinet ministers. Was Gelli suggesting that the names of some 500 members had still not emerged? 'I don't know. There are those who speak of 1,000 members, others speak of 1,500, others of 2,000, some have even reached the figure of 3,000.' His words would have been highly alarming for anyone whose name was on a full list that had not been made public.
         A significant portion of P2's power came from the membership of the heads of the intelligence services. Access to sensitive secret service files placed an extraordinary instrument of blackmail in Gelli's hands. He was initially coy about his relationship with the intelligence world when I spoke to him. 'If there was an officer who was a member of P2 I wasn't in a position to know it, because I wouldn't ask him whether he belonged to the secret services and if he did belong, he shouldn't tell me, or what sort of secret services would they have been?' But he quickly recognised the manifest implausibility of this explanation and conceded: 'I knew masses of them, what do you expect? I knew whether or not they belonged to the secret services.'
         I was back for a second visit to Villa Wanda just four months later, this time in the company of the author Charles Raw,who was researching his monumental book on the Banco Ambrosiano scandal, The Money Changers. That visit was perhaps most memorable for Gelli's ability to deny flatly the financial evidence gathered by the Ambrosiano liquidators. With no visible signs of discomposure, he denied ownership of a Swiss bank account opened on his behalf and, in Raw's words, 'the irrefutable evidence provided by the Swiss authorities' that it had been fed with funds originating at the Banco Ambrosiano, run by his generous brother in P2 Roberto Calvi. 'Sitting in the Villa Wanda, looking the very picture of a contented elderly gentleman, he blandly denied the plainest evidence,' Raw observed.
         After the interview Gelli amiably agreed to pose for photographs in the garden, standing next to Raw for some, and smiling as though they were old friends. As we took our leave he cordially invited us to return for a cup of coffee if we were ever down the Arezzo way again. And he would, of course, do the same if he were ever in London. For all the jocularity of this throwaway remark, it was hard not to think of his P2 brother Michele Sindona, a mafia-linked financier who died in an Italian prison after drinking a cup of poisoned coffee. The real message to Raw, who lived in London, seemed to be that Gelli would have no difficulty in finding him if he ever needed to. It was a little unsettling and perhaps an indication that Gelli had been more rattled by the financial questions than he let on.

         The true role of Licio Gelli in Italy's recent history is likely to remain an enigma, but key elements of his biography do provide some clues. Gelli was born in a mill on the outskirts of Pistoia on April 21 1919. He is said to have been expelled from school at the age of 13 after punching the headmaster and appears to have begun adult life with only a rudimentary education. In any case, by the age of 17 he was fighting as a volunteer with Italian fascist forces in the Spanish Civil War, having enrolled under the assumed name of Livio Gommina. His elder brother Raffaello was killed in that conflict, a traumatic experience for Licio and one that seems to have confirmed him in a lifelong aversion to communism, making him the dedicated Cold War combatant that he would remain for the rest of his days.
         The other key ingredient in Gelli's career was his contact with international intelligence services and his ability to back a winning horse. Gelli emerged unscathed from the Second World War, having used his position as a liaison officer between the Italian fascist authorities and German occupying forces to save the lives of numerous partisans. This later gave rise to suggestions that he had been a secret communist sympathiser and really worked for the Soviet KGB. But there were also more plausible stories that he had worked for the Counter Intelligence Corps of the US Fifth Army at the end of the war, and there is plentiful evidence of a continuing relationship with US intelligence in subsequent years. Gelli has always been ambiguous about these links, but it appears that in his old age he has decided he would rather their existence be known and believed, rather than discounted as leftwing propaganda. His curriculum would not be complete without reference to the numerous indications of his longstanding links to Italy's own military intelligence apparatus, for which he appears to have worked and where he exerted significant influence.
         Gelli's lack of formal schooling and cultural sophistication would raise doubts about his political clout in later life. Could this intellectually modest mattress manufacturer really be running the shadow state in Italy? Was he the real head of P2 after all, given the presence of intellectually sharper, politically more sophisticated and better-placed individuals on the membership lists? The answer is probably yes to both questions. It seems that Gelli achieved extraordinary things on the basis of innate cunning, common sense and excellent networking skills. That, after all, was what P2 was all about.
         Since his return to Italy in 1988 Gelli has always talked freely to the press, receiving dozens of visits from journalists at Villa Wanda. It was just that in the early years certain topics were off-limits, to be skirted around or screened off behind obfuscation and lies. In recent years he has become more relaxed. Certain Cold War secrets were no longer so sensitive as they once were and the Venerable Master of P2 seemed to feel he could indulge in a little legitimate bragging. This was the case when I visited him again in October 2005, this time to be admitted to the drawing room/art gallery. He had initially been loth to receive me, as I was researching a book on the Calvi case and Gelli himself was a suspect in the P2 banker's murder.
         Little had changed in the six years since our last meeting. He was wearing, as ever, a smart grey suit with a black tie, but now sported a natty, sculpted white beard and moustache. He was stooped by age now, but still mentally alert at age 86, and struck me again as 'the very image of inoffensive respectability'. Despite his earlier reluctance, he soon showed himself to be in expansive mood, tackling the Calvi story as readily as any other. 'In the last contacts he had before fleeing Italy, he said that if the Vatican did not make up its mind to pay back the money it had received from his institution, he would make known events and facts that were so grave that the Holy See would simply have been forced to leave Italian territory,' he told me. 'He certainly had information. Calvi represented at that time a certain way of doing business in Italy, a financial sector that paid large sums to the political world.' If anyone knew about that 'certain way of doing business' it was P2 boss Licio Gelli.         
Gelli said he was convinced Calvi had been 'suicided' but didn't have any idea as to who might have been behind it. 'I have always asked myself that. He didn't have enemies. I think of the famous briefcase. He used to keep it close to his leg, always in contact.'
A military intelligence report written just two months after Calvi's death – he was found hanging from scaffolding under Blackfriars Bridge on the morning of June 18 1982 – points an accusing finger at Gelli. A confidential source told the author of the report that Calvi had turned to the Vatican bank and then to influential political personalities for help in staving off the Banco Ambrosiano's collapse, but his efforts had been in vain. 'He therefore resumed contacts with Licio Gelli to resolve all outstanding financial disputes between the two and to find the best way of avoiding the imminent financial collapse,' the report said. 'He went to London to meet Gelli or his emissaries, taking with him highly blackmailing documents. Here he was killed and the documentation taken from him.'
         Gelli proved expansive on other topics, which he would previously have  approached with the utmost caution. He hinted that there may have been a link between the P2 Masonic Lodge and Gladio, the NATO stay-behind network suspected of involvement in rightwing terrorism in Italy. 'It [P2] was an invisible army, just as Gladio was an invisible army,' he said. 'Remember that Gladio was formed in 1948 with men recruited from among the Spanish legionnaires and from elements who had fought for the Republic of Salo [Benito Mussolini's last-stand fascist regime in northern Italy], because they were young and knew how to use arms and they were anti-communist and ruthless. You'll notice that both in Gladio and in P2 there have been no pentiti.' He later attempted to backtrack on the Gladio/P2 connection, feigning ignorance of Gladio. 'Gladio, as far as one knows, was a military organisation. The P2 Masonic Lodge was a social and cultural matter. There was no connection.' Documents from Gelli's personal archive tend to support his first, franker version, however.
         The candid Gelli was seen to good effect in a book-length interview with the journalist Sandro Neri, published in 2006. In Licio Gelli: The Venerabile's Word [Licio Gelli: Parola di Venerabile], Gelli does not shy away from even the most scabrous aspects of his career. 'Questions are never indiscreet. Sometimes the answers can be,' he told Neri encouragingly. True to this premise, he is surprisingly forthcoming about P2's objectives. The purpose of P2 was to work in silence for the good of the cause, he told Neri. 'I have always thought of freemasonry as a kind of subterranean diplomatic channel... certainly the purpose of P2 was to guarantee Italy privileged access in its international relations.'
         Italy's most important post-war partner was the United States, so it was logical that the US should have taken a keen interest in certain delicate passages of recent Italian history, he acknowledged. The aborted Borghese coup in 1970, for example, was called off after certain promises of support were withdrawn. 'For example from the Americans?' Neri asked. 'For example,' Gelli confirmed. And by his own account he was well placed to know. 'I knew personalities of international stature. Also within the CIA or American conservative circles... I met Richard Nixon at the inauguration ceremony for an American president. I certainly had dealings with [Rome station chief and later CIA director] William Colby,' he told his interviewer. 'But I didn't take orders from anyone. At most, I gave advice.' Faithful ally though he was, Gelli had few illusions about the nature of the bilateral relationship: 'From the end of the war we were just a colony of the USA,' he told Neri.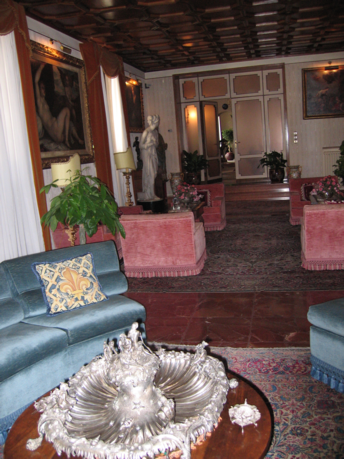 The extent and significance of Gelli's international contacts emerges from the documents in his personal archive, donated to the Italian state in 2005. The man whose power had been inextricably bound up with the blackmailing potential of his archive had apparently gifted the whole lot to the state in return for... nothing.  Gelli was feeling particularly pleased with himself when I visited him, as news of this generous gesture was reported in that morning's newspapers.
         A master of disguise, one of the photos donated to the Pistoia archive shows a bearded Gelli pushing a barrel-organ through the streets of Nice during one of his periods on the run. He is modestly attired in dark trousers and a white tee-shirt, sports a neat beard and is accompanied by a placid-looking cat. Not all that is present in the archive may be exactly what it seems, though, and Gelli's assurances that it is complete can probably be safely discounted. Perplexing and confusing though they may be, some of the documents seem to offer an intriguing insight into the nature of his power and the reality of what he was up to.
         I travelled to Pistoia to visit the archive in September 2007. In a television interview Gelli had spoken grandly of the archive boosting tourism to the city of his birth, but chief archivist Carlo Vivoli assured me it had done no such thing. There had been only a few dozen requests to visit it from journalists and historians since its public inauguration in February 2006. Gelli himself had attended, heckled by a small group of leftwing demonstrators outside city hall. The ceremony involved an address by Linda Giuva, the archivist wife of Left Democrat leader Massimo D'Alema, and was boycotted by members of Pistoia's leftwing council, whose members had schizofrenically accepted the donation but couldn't get over their political and moral disapproval of the donor.
         The archive contains historical documents signed by the likes of Napoleon, Garibaldi, Mussolini, Manzoni and Hitler. These and Gelli's meticulously classified personal papers are kept in a secure room marked Sala G (Room G). Outside it is a consultation room, with masonic medals, trowels, gavels and aprons from the P2 collection of masonic paraphernalia on display in glass cabinets. A collection of Gelli's books are held in a locked glass-fronted bookcase topped with an impressive array of literary prizes awarded for his efforts as a writer and poet. It was gratifying to note that the Italian translation of my book Puppetmasters was part of Gelli's collection of books about himself – a comprehensive selection of works not restricted to those of his admirers.
Even while he was in political disgrace, trophies recognising his literary merits continued to flow in, and there were more silver cups on another cabinet in an adjoining room, testimony to the competitive prowess of this prolific literary athlete. In 1995 his name was even put forward for the Nobel Prize for Poetry, but the committee proved insensitive to his literary merits, despite letters of recommendation from the Dante Alighieri Prize Committee, presided over by Cardinal Silvio Oddi, the Ministry of Culture of the Kyrghyz Republic, the director of the Literary Institute of Uzbekistan and the Senate of the University of Oradea in Romania.
I was less interested in his literary skills and his collection of historical letters than in his personal correspondence and the light that it might shed on his political activities. A number of letters sent to Giulio Andreotti appeared to confirm a close personal relationship between the two men, widely surmised at since the moment when they appeared together in a photo wearing beaming smiles and dinner jackets during a diplomatic visit to Argentina by Andreotti. Andreotti – seven times prime minister of Italy -- was by no means the only member of the political establishment to whom Gelli was close. An invitation dating from November 1969 showed Gelli had been invited to a boar hunt at the presidential estate at Castel Porziano under the presidency of Giuseppe Saragat, and there were many more that testified to his excellent political and social connections.
The letters to Andreotti seem to confirm the role of itinerant ambassador for masonic Italy that Gelli claimed for himself in his interview with Sandro Neri. A letter dated Arezzo, August 11 1976, congratulated the Christian Democrat politician on his formation of a new government. Just back from a visit to the United States and Latin America, Gelli was able to inform the premier that his new administration enjoyed the confidence of the countries he had just visited 'exclusively because it is led by a man of your stature and experience'. At the end of the holidays, he said, he would drop by to salute him in person. Another missive, this time signed with the pseudonym G. Luciani, informed Andreotti that Gelli was about to return to the United States for a series of meetings with newly appointed American government officials whom he had first met during the election campaign. Again, he said, he would drop in on Andreotti for a personal meeting on his return.
Writing on July 28 1978, two months after the murder of Aldo Moro by the Red Brigades, Gelli said he had wanted to wish Andreotti a peaceful holiday in person but was unable to do so because he had been unexpectedly summoned abroad. He was departing in an extremely agitated state because of the recent events 'that will certainly not contribute either to a definitive solution or to an improvement in the current political and economic situation'. A letter sent the following December shows a certain intimacy between the two men: Gelli was sending an 'ancient but authentic' Etruscan pottery fragment as a Christmas gift to Andreotti's family.
A letter dated March 23 2001 seems to indicate that the contact continued until relatively recent times. In it, Gelli said he was sending a literary prize via his personal chauffeur at the request of Cardinal Alfons Stickler, 'whom I know well'. If Andreotti had time for a personal meeting, he would entertain him with an amusing account of his recent interrogation by Palermo magistrates, who wanted to know about 'the relations that existed between us during the better times'.
There is no evidence Andreotti actually received these letters, only a brief handwritten note dated August 22 1976, in which the newly elected premier thanked Gelli 'cordially' for his letter of good wishes. The replies, if they do exist, probably belong to the archive that Gelli has not yet decided to part with.
Other documents in Gelli's collection offer a fascinating glimpse of how the Venerabile's power network actually operated in practice. The Arezzo mattress manufacturer sometimes describes himself as an unlicensed private banker. In 1998 police found 150 kilos of gold concealed in giant flowerpots under Gelli's roses and geraniums, giving some indication of his success in the financial sphere. Roberto Calvi explained his decision to join P2 in 1975 as a quest for political protection. A document found in the banker's briefcase after his death said Gelli 'had convinced me that all political and financial power really depended on him and that no deal of any importance could go ahead without his consent'.
At around the time that Calvi joined the lodge, P2's theoretical approach to the assumption and exercise of political power was being developed in a paradoxically named 'Plan for Democratic Revival'. Corruption rather than military force was the recommended method for taking control of the Italian state. A sum of around 30 or 40 billion Lire [£20-26 million] was considered sufficient for the purpose, 'enough for well-chosen men of good faith' to win control of key positions in political parties, the press and trade unions. As far as the press was concerned, a couple of campaigning news magazines were to be bought, as well as individual journalists, two or three per publication, who would be given the task of 'supporting' selected politicians. In practice, Calvi's money would come in handy when P2 bought control of the Corriere della Sera, the country's most influential newspaper, just a few years later.
How P2 power could be exercised in reality is graphically illustrated in documents relating to Gelli's organisation of a visit to Italy by the head of the Argentine navy in October 1977. Conveniently enough, Admiral Emilio Massera was already a member of the Argentine branch of P2. His visit to inspect and order Italian weapons systems was organised by Gelli wearing one of his many official hats, that of economic counsellor at the Argentine embassy in Rome. At 6.30 p.m. on October 26 Massera was scheduled to meet five of Italy's leading bankers at Rome's Grand Hotel. Of the five names on the list for the meeting, four – including that of Roberto Calvi – also appeared on Gelli's P2 membership list. An hour later, in the same hotel, there was to be a meeting with Italy's treasury minister; Gaetano Stammati was yet another P2 brother. At 9.30 a.m. the following day Massera was due to meet 10 leading figures from the Italian business community; six of those chosen were members of Gelli's secret lodge.
Just how useful the network could be was illustrated in a letter from Gelli to Federico Barttfeld, the Argentine ambassador to Italy and another member of the P2 family. In the letter, dated October 7, Gelli explained that the group of journalists who would interview Massera during his visit would be made up exclusively of selected individuals from the major Italian news organisations and their questions would all be vetted in advance. The questions would actually be drawn up by the Argentine delegation, passed to the editors of Italian newspapers – 'naturally friends' – who would in turn pass them on 'to the journalists, of proven faith, chosen to conduct this interview.' To smooth the political waters before Massera's controversial visit, the admiral had agreed that the junta would release a number of leftwing suspects of Italian origin who had ended up in the far from tender hands of the military dictatorship. P2 power brokers were therefore able to take life-and-death decisions concerning the fate of Argentine dissidents, organise the meetings between a visiting P2 dignitary and P2 members of the Italian business and financial worlds, and then control the way the news of the visit was reported in the Italian press. It was a small and an ideal world for members of this exclusive masonic fraternity.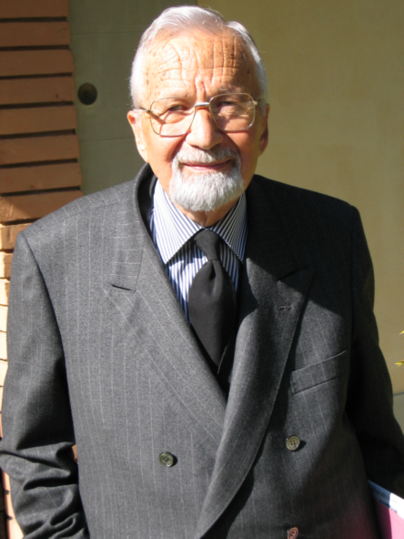 One of the most curious items in the Gelli archive in Pistoia is a painting of the Venerable Master in the red and white garb of a cardinal. It may reflect something more than the Venerabile's delight in disguises. Gelli was tasked with negotiating an improvement in relations with the Catholic Church early on in his masonic career and he appears to have been well connected in the Vatican over many years. There have been repeated rumours of the existence of a Vatican Lodge, possibly coinciding with P2; this despite a papal ban on Catholics becoming freemasons, which was not rescinded until 1983. An unpublished first draft of his memoir La Verita [The Truth] describes how Gelli insinuated his way into the Vatican by offering a specially made mattress to the Holy Father, a ploy that gained him a series of private audiences both with Pope Pius XII and Paul VI. The book describes a meeting with the latter during the course of which the Pope made a note of Gelli's personal telephone number under circumstances that seemed to imply an intention to contact him for the kind of delicate services that might be better carried out under an assumed name. It is likely that Gelli found common ground with the Vatican in his passion for combating communism rather than for comfortable beds.
Gelli repeated the story about the mattress in his interview with Sandro Neri. It had been embroidered with the papal coat of arms by nuns from Pistoia and was accompanied by the gift of a gilded bed, decorated with four kilos of gold. 'I know for a fact that it is still in the Vatican,' he said. Paul's successor, John Paul II, also had reason to be grateful to Gelli. This time in his role as media magnate, he ensured that the Rizzoli group refrained from publishing embarrassing photos of the Pope beside his Castel Gandolfo swimming pool. The long lens paparazzi snaps showed the Pope 'semi-nude, while changing his swimming trunks', he told Neri. They had been handed to Andreotti for delivery to the Vatican. Whatever the services, Gelli was rewarded by being named first a Commander and then a Grand Officer of the Equestrian Order of the Holy Sepulchre of Jerusalem. In 1997, when Gelli was already thoroughly publicly discredited, John Paul still sent him a personally dedicated Christmas card. The card, in the Pistoia archive, shows a Giotto nativity scene from Assisi and bears an inscription in Latin, written in the pontiff's shaky, Parkinson's-affected hand and signed Joannes Paulus PPII.
Other documents in the collection take us away from the sacristy and back to the battlefield. A confused three-page typewritten note on Operation Gladio, replete with typographical errors, claims the secret anti-invasion strategy was the brain-child of German SS leader Heinrich Himmler. It was discovered by US intelligence in 1945 and subsequently incorporated into Western Cold War planning. 'In 1948 the CIA adapted the plan to the Cold War and Bill Colby, a former OSS [Office of Strategic Services] agent in France, introduced it to Norway and then to Italy.' The document suggests that Gelli had been part of the organisation from the beginning, attending meetings with Colby and two other colleagues named Curtis and Beverli [sic]. The document also seems to indicate that members of the original German network were recruited into the CIA's Gladio, a not particularly noble but pragmatic approach to the early stages of the Cold War.
Another document in Gelli's collection, dated 1948, reinforces the idea that the future freemason was one of the former enemies recruited to the Western cause. The short typewritten note accompanies four photographs of a youthful Licio Gelli walking in front of the Duomo in Florence. It reads simply: 'Florence Summoned by Gen. "Lungarno" for an interview for the "Gladio" structure.' It would seem, after all, that the Venerabile does not want posterity to harbour any illusions about which side he had been on during the 20th century's long, low-intensity conflict.
As I left Arezzo after my last visit to Villa Wanda I called in on the Church of San Francesco to take a look at Piero della Francesca's 'Legend of the True Cross' fresco cycle. Like the silver knights and war engines on Gelli's mantelpiece, the colourful pageant of faith and warfare, spiritual symbol and physical bloodshed could apply just as well to Licio Gelli's troubled times. The modern warriors were motivated by powerful ideological beliefs and Christianity was a prime contender in the century-long battle against atheist communism. Piero's images of conflict represented the battles of early Christian emperors against their pagan enemies, while Licio's struggle had been against the tenacious myrmidons of Marxism and had stretched from the gentle hills of Tuscany to the pampas of Argentina and the corridors of political power in Washington. His had been a battle of ideas and wits, but the bloodshed had also been just as real as in the graphically depicted violence of Piero della Francesca's frescoes.
As I left, I was weighed down by Gelli's parting gifts. Having unloaded his archive on Pistoia, he still had more books to give away: a weighty biography by his friend Pier Carpi and a hagiographic tome entitled Licio Gelli: European Poet were among the works he pressed on me at my departure. Strangest of all was a videotape of the film Piazza delle Cinque Lune. The film tells the story of the kidnap and murder of Aldo Moro, complete with a sinister conspiratorial figure from the secret services who is clearly modelled on our Licio. That did not deter the director, Renzo Martinelli, from presenting Gelli with a batch of complimentary tapes, one of which the recipient was now passing on to me. It somehow summed up Gelli's ambiguous position in Italian society: respected elder statesman and faithful servant of the enduring (inner) Italian state, or terrorist conspirator and murderer on behalf of a secret supranational power. In the prevailing uncertainty everyone remains free to make their choice, and to make him a polite homage of the books and films that accuse him. He does seem to be venerable after all.